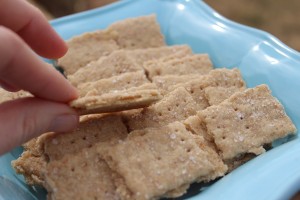 I had a bit of a personal challenge this morning.  I said to myself, "If I can make pretty darn tasty bread, then I should be able to make crackers!" So here is my morning journey…
I started with this Wheat Cracker recipe from www.AllRecipes.com and made my changes:
Plain Whole Grain Crackers:
1 3/4 C  7 Grain freshly milled
1 1/2 C unbleached white flour
3/4 tsp Real Salt (Coming soon to Urban Homemaker)
1 C Water
1/3 C Olive Oil
Sea Salt for topping
Into the Bosch outfitted with Cookie Paddles and then the setting to 1 as I poured the liquids into the dry ingredients. By the
time I set my measuring cup down the ingredients were mixed. Roll this amount of dough onto parchment for 3-4 cookie sheets. 2 cookie sheets worth will give you a thicker, softer- less crispy cracker. 3-4 sheets will be the thinness required for the cracker to be cheese spread worthy! Both thicknesses were incredible in taste and are currently being devoured!
Helpful Note: Roll dough onto parchment paper. Makes transferring to a sheet and prepping for the next round~ easy! I used 2 types of rollers a Wood Pastry/Pizza Roller and I used a standard 13″ rolling pin.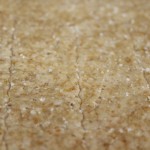 Once rolled out I scored the dough with a pizza cutter, knife, or whatever tool you want. Each cracker was stabbed with a fork.
Into the oven 350 degrees for 18-20 min until browned. Watch it! Depending on your type of oven, convection or not, and how the temp is~ just watch so it doesn't burn.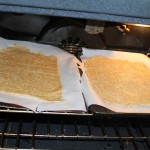 The end result was beautiful. This is the plain variation with a thicker roll out. I spread the dough on 2 sheets and got a breadier, yet slightly crispy cracker. It is delightful and the salt on top is perfect!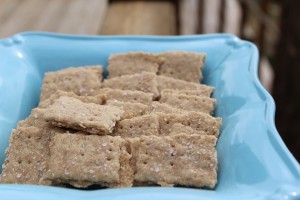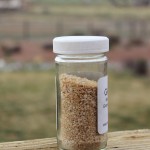 Step 2.. Make a second batch and this time load it with 1- 1 1/2 T of garlic granules or powder and parmesan cheese (1/2C). I used Organic Garlic Granules from www.StrawHatFarms.com . They grow and process several varieties of garlic on the certified organic farm right in Montrose, CO. Chet and Karen Byler are friends of ours and I love their garlic! I bought the glass containers of garlic powder and granules and then refill in bulk. Please see their website for shipping details.
** Note: if adding extras like a parmesan cheese add about 1T water more to keep the dough moist.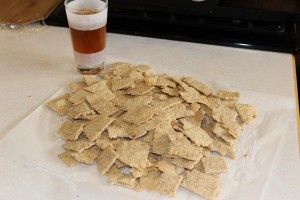 Here is the second batch: Garlic, Parmesan Cheese 7 Grain Crackers. They were rolled thinner than my plain batch and covered 3 cookie sheets. There is a crisp and they are completely addicting when eaten with a cheese spread. I took this photo of them cooling so you can see how much in in 1 recipe when using 3 sheets. This was comparable to emptying 2 boxes of store bought crackers.
There you have it.. My personal cracker challenge and thumbs up across the board of family members.  I love that I know what went into our crackers and that nothing unpronounceable was in my ingredient list.
Till the Next Challenge, Kathy