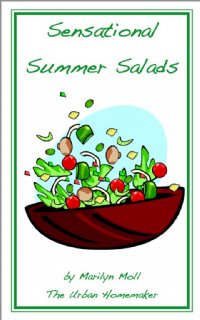 At our last Mentoring Moms, I did a blind taste test with three different versions of Ranch Dressing.  I've noticed the commercial, bottled Ranch Dressing is getting prohibitively expensive and I hate the soy oil and MSG in it, so I decided to stop being lazy and make my own.
Our blind taste test included the following three choices.
1. Hidden Valley Ranch Dressing in the bottle (including all the bad, unpronounceable ingredients and MSG)
2. Kroger Ranch Dip Mix with Sour cream
3. Homemade Ranch Dressing
Can you guess which choice was the winner for taste?  I'll confess I thought number one, the commercial Ranch would be the winner hands down.  I was astounded and surprised that the ladies chose, by an overwhelming majority, the Homemade Ranch Dressing.
Here is the recipe for Ranch Dressing taken from Sensational Summer Salads ebook.
Homemade Ranch Dressing
Mix in a blender the following ingredients until smooth:
3/4 cup mayonnaise
3/4 cup sour cream or cultured buttermilk*
1 tsp garlic powder
1 tsp dill weed
1 Tbsp finely chopped onion
1 Tbsp parsley
1/2 tsp salt
1/4 tsp pepper
You can thin this dressing with buttermilk or milk to the desired consistency.  Authentic Ranch Dressing uses buttermilk.  Another option is to use 1 –2 Tbsp buttermilk powder and get the same effect.   Refrigerate.
*I use sour cream for making a Ranch Dip and I use buttermilk for making the dressing.
Sensational Summer Salads includes a wide assortment of recipes including vegetable salads, fruit salads, pasta salads, grain salads, and main dish salads so you can easily prepare a complete meal with little or no cooking during the long, hot, dog days of summer.