I am a FLAKER! and proud of it…
Yes, even the Urban Homemaker buys already flaked oats and 7/9-grains.. Until tonight, that is! One of my New Year's goals was to "flake" or "roll" or to simply "flatten the heck out of a whole grain!"  So tonight, as I prepared a granola recipe out of Breakfasts for Busy Moms, I considered taking a hammer to each piece of grain, but then realized there is an easier way…  So out came the Flaker for the Bosch and I flaked my 9 grain whole grain for the recipe! I am so impressed with myself  and the Bosch Universal as it handled itself perfectly on it's side and flaked it's heart out to give our family optimal nutrition and excitement for a Sunday night.
The Bosch is tipped to it's side with resting pads built onto the unit. The Flaker attachment connects and a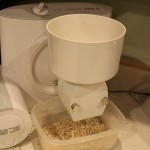 lever is flipped as a locking mechanism. When I flaked, I put the Bosch on a "1" setting. Just pour the grain in. The directions do not indicate that the unit be on to flake, but out of habit with the Wondermill I followed that routine.
Few minutes later I had actually "FLAKED!" I ended up flaking 14 C of rolled 9 grain and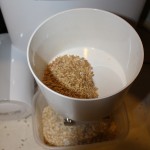 steel cut oats into flat little flakes. Granola went into the oven, and rolled steel cut oats and about a cup of 9-grain whole grain was set aside for breakfast tomorrow. Please note: I "flaked" steel cut oats because that is what I had. This flaker does not "steel cut" them- it just "rolled" them into flakes. The oats after flaking resembled a beautiful Amish Oatmeal. For us, I added flaked 9 grain to add variety to our hot cereal. It all looks GOOD!
This is the end result. This is steel cut oats & a scant cup of 9-grain.
BEAUTIFUL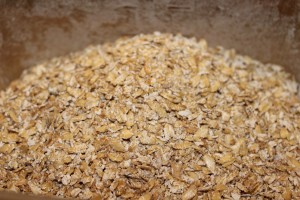 Flaked Oats, flaked whole grains can be utiltized in a variety of ways in all the ways you would think to use "oatmeal." Hot cereals:just adjust water/liquid as necessary. Rolled oats to water is 1:2-3, 9-grain is 1:4, Barley 1:3, etc.
Also- this is just one way to "flake." I intend to try other tools of the trade, but maybe if you flake with one of them, you could note your experience on our website in the review section on the specific part? Here is a link to the page with a few on them. The Flaker attachment for the Bosch is in the Bosch catagory under the main unit where all the attachments are!
Here's to being a Flaker! Happy Flaking- Kathy, a Happy Urban Homemaker