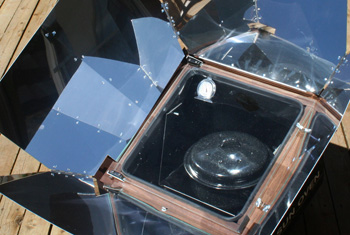 When I tell people that I purchased a solar oven they look at me funny, like they don't get it. It's almost as if they wonder how you plug it in. Or how do you get the sun to come into your kitchen where the oven is? YEP- I was asked this and once I explained the person didn't believe me! But it is true and every time I use it I too am shocked. As of this week, I have used my Sun Oven about 3x a week. I have enjoyed not worrying about dinner (since I thought about it earlier!)  nor a hot kitchen ( which will inevitably end summer cooking). I almost go into a camping mindset.. No rules, cooking freedom, etc
Why did we buy a solar oven?
1.      Free energy! Seriously, that was part of it.
2.      Camping
3.      Emergency use
4.      Ease of use (think of a crock pot you don't plug in)
5.      Novelty (hello, it's a SOLAR oven)
We liked our solar oven so much that we contacted the company that makes the Global Sun Oven to become a reseller. Is it turns out the owner of the company was on vacation in Western Colorado and came to our home to conduct a training seminar with a crowd of about 20 people. We met in the breezeway and learned quite a bit. Here are some photos!


A solar oven is designed for a useful life of about 30 years. There are no burners to go out and very few moving parts. A large portion of these ovens are sold overseas in developing countries, so simplicity, ease of use and durability are a key feature (and benefit).
Here are some points which may answer your questions:
Food cooks at 178 degrees F. Anything above that will cook. Yes, adjusting cooking time may be slightly longer, but I had brownies cook in 30 min when the oven temp was 350 degrees!
Treat the wood top with Linseed oil every 2 yrs if it is left to the elements.
It is hot! Yes, use oven mitts! The glass, cooking pots, and the metal inside are hot if the oven is on.
Dog proof? Yes- Dogs don't like their noses burned anymore than you like your fingers! The glass can be hot.
For every oven sold in the USA a portion goes into equipping others in deforested countries where fuel is a premium.
The reflectors can be scratched or just plain old and beat up – and they will still work!
The reflectors can be wiped with a Norwex cloth or simply use Windex.. However I thought no chemicals was best.
It is easy! Yes,  It was scarey until I actually used it for the 1st time. Every time after has been E-A-S-Y!
Any recipe you like to cook can probably be cooked in this Sun Oven.
Sun Ovens make a perfect vehicle to have a personal challenge. This is my personal challenge and so far, I just have to readjust my thinking on timing. Also I am not so burned out in the morning as I am in the evening.. so it has helped with meal planning!
Points from our newsletter below!
A solar oven heats up quickly and can be used in summer and winter. You can cook at temperatures as low a 8 degrees F.
A solar oven cooks food evenly and will not dry your food out. This is one of the most amazing things about the way it cooks. The heat in the unit surrounds the cooking area and cooks from all sides. You can even hard boil eggs without boiling them. Eggs placed on a pan will become hard-unboiled (in just 30min!) just like hard boiled eggs. That's because the heat around the egg is an even heat – just like when boiling.
A solar oven won't burn your food either. Rice or baked beans in a pot will not get that hard burned layer at the bottom, because there is no flame at the bottom burning the items.
Here's what we learned in our test kitchen, or south facing deck for this project…
Pre-heating ( all of 7 minutes) began after breakfast; the oven was placed towards the sun (obvious, I know) and positioned as the owner's manual suggests.
I placed a FROZEN 4lb. chicken with seasonings into the 3QT pot and when I placed it in the oven, it was at 300 degrees. I was pleasantly surprised that this little 20 pound cooker really puts out the heat!
My frozen chicken cooked from 11:45am to 4:15pm. The smell around the Sun Oven was delectable! The roasted chicken smelled wonderful, looked gorgeous, and was fully cooked and made a perfect dinner!

I have several more test case scenarios to put to the test- however so far the concept is wonderful. The ability to actually cook a frozen chicken with little to no effort using the free energy of the sun was downright fun.
Brownies are wonderful. I used my own recipe. They cooked beautifully in 30 min.
I wish I had taken a photo of my frozen rock of a round roast. Yes- As I ran out the door to take the kids to swimming lessons the thought came to me.. Put a frozen roast inthe Sun Oven, pour BBQ sauce over the top, and wha la- have no stress for dinner. So I went about my day, took the roast out around 5:45pm and served wonderful BBQ Beef Sandwiches for dinner.Serve with  Cole Slaw, and a fruit salad.
BBQ Sauce:
SAUCE:
1/2 cup ketchup
1/2 cup chili sauce
1/4 cup packed brown sugar
2 tablespoons cider vinegar
2 tablespoons Worcestershire sauce
1 teaspoon liquid smoke flavoring (optional)
1/2 teaspoon ground mustard
** put half on the meat, save half for serving**
Cole Slaw:
1/2 cup brown sugar
1/2 cup apple cider vinegar
1/2 cup mayonnaise
1 teaspoon celery seed
4 cups chopped cabbage ( Use both green and purple cabbage or a Broccoli slaw mix)
Directions
In a large bowl, whisk together the brown sugar, apple cider vinegar, mayonnaise, and celery seed. Add cabbage and toss to coat.  This is a very basic slaw recipe. I end up adding seeds, nuts, noodles, or dried fruit to make it right for the taste buds!
Fruit Salad: ( Yummy Yummy!- Can you tell I am a mother to young kids?)
Add any fruit you have, cut into bite sized pieces. Mix together
Dollop vanilla yogurt as dressing OR equal parts yogurt/orange juice with crystallized ginger chopped up through out. Having this made early so flavors can mingle is best, but not required!
For more information and recipes for our solar ovens visit our web site here.
Do you get our newsletter? Join here and get a free e-book "Steps to the Best Bread".