May I be completely honest? I am burned out with the same old, same old breakfast items and due to the fact that I own a plethora of whole grains I might as well move beyond baked goods and stretch the proverbial wings.  So here is my creativity for 2 breakfast options for the busy and not so busy "Urban Homemaker" come the wee hours of a work/school day… Let me back up and provide a bit of background: I have 2 big boys and 1 big girl, all age 8, and all three grow so fast I am shocked at the difference from a few months ago to now. I also feel motivated as I was when they were born to put into them the good things in life and leave out the bad as much as I can. In doing so, I happen to enjoy the pay off and the cost savings with living "granola like" and making my own. Also, I find myself a worker-bee right about dinner time through bedtime and can prep these breakfasts the night before and then place the welcomed postie note on the coffee pot so my dear Mr. Urban Homemaker can preheat the oven on occasion! The other night my croc pot was on making the house smell WONDERFUL.. I  simply got motivated by a friend's FB request for croc pot recipes:
Slow Cooker/Croc Pot Apple Spice Steel Cut Oats
2 cups diced apple 2 Cups Steel Cut Oats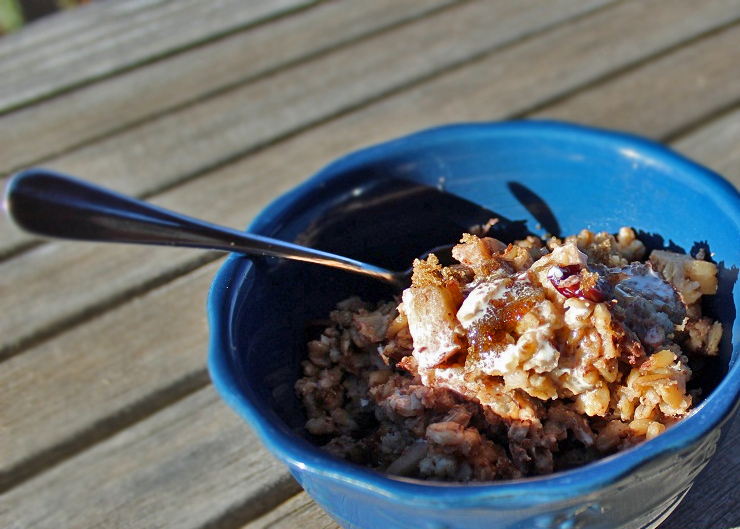 1 cup dried cranberries 1/4 cup almond meal 1/3 cup finely chopped pecans 3 cups water (Filter it! Multi-Pure water filter) 1 cup milk 1 tablespoon ground cinnamon 1 teaspoon pumpkin pie spice 2 teaspoons butter Directions
Combine the oats, apple, cranberries, almond meal, pecans, water, milk, cinnamon, pumpkin pie spice, and butter in a slow cooker. Stir it up good, and then lid on-don't touch till morning! Cook on Low overnight for 8 hours.
I start this at 11pm for an 8am eat…. adjust if you have to be out of the house!
Another FAVORITE: Banana Baked Oatmeal
I got the original recipe from Sonrise Mountain Ranch in Cimarron, CO. I have tweaked it some to fit our preferences! But they get all the credit. Spray a 9×13, preheat to 350 degrees In Mixer, place the following: 1 C Coconut oil (sub. Olive or your choice) 4 Eggs 1 1/2 C Sugar 1 tsp Cinnamon 6 C 7 Grain flaked (can sub Oatmeal) 1T +1tsp Baking Powder 2 C Milk 1 C Mashed bananas ( about 2 medium) 1/2-3/4 C Chopped nuts * Mix all ingredients together, bake for 45 min at 350 degrees F. ** Kid-friendly version: mix all, but the nuts, together, put into pan, sprinkle chopped nuts on half, bake for 45 min *** Can make this the night before storing in the fridge. ****Toppings: Syrup is always good, but Vanilla yogurt +/- berries are fabulous! I mainly serve it with yogurt. This baked oatmeal is a favorite year around, at potlucks, made into muffins and frozen and used for an on the go breakfast! We love it for lunch and a midafternoon snack! Leftovers are fought over. So there you have it.. Two options for everyday or a special day, using the healthy whole grains your body needs to fuel it till lunch! May they soon become a family favorite and a tradition that brings the family together!