One of my homemaking goals is to use what I have and enjoy the process of finding the recipes which are now becoming traditions.  Breakfast is also a favorite mealtime and I have recipes that I am asked to share over and over again. These items may use a same basic ingredient at times, but when you buy in whole grain bulk embrace it!
Special Pancake- aka German Pancake, Puff Pancake:
This recipe is often requested and I make it for guests or just on Saturday mornings when I have more time. I have everything to make this and by the time the oven preheats the batter is ready to go and once again I have used one of my favorite kitchen tools: The Vita-Mix Blender. For small batches of flour, I can quickly mill the soft white wheat for this recipe in the dry blade container and then switch to the wet blender container and mix my batter!
We triple this recipe as our family of 5 will eat it! I use a Superstone: Deep Dish Baker and a 9×13.
Preheat oven at 425. Spray pan with olive oil, smear bottom of Deep Dish Baker with 1 T coconut oil or butter.
Into blender: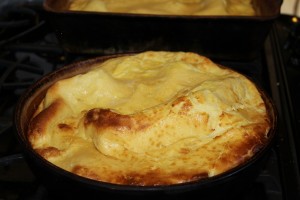 3 eggs
1/4 tsp salt
1/2 tsp vanilla
2 T sugar
1/2 C freshly milled soft white wheat ( or 1/4 C white flour & 1/4C  hard red or white wheat) (Lighter the flour , lighter the rise of the pancake. More whole wheat the denser the pancake, but just as yummy!)
Mix till blended, pour, then bake! This recipe serving will fill a pancake pan. Double it or triple it and use bakeware sizing which is appropriate, i.e. 9×13= doubling, deep dish baker=single, both= triple!!!
Favorite toppings include- but not aren't limited to: syrup, lemon juice and powdered sugar, vanilla yogurt and fresh berries, jam of any variety. Yogurt with jam is our favorite!
There is more!
On the go?- Make it ahead! or heck, surprise everyone and take it camping already made! I made this dish for 10 of my closest triplet mom friends who came for a girls' "Mother's Escape" Weekend, i.e no kids, no husbands, just us girls! and it was a hit. I take it often to brunches with an empty bowl to take home. It is yummy..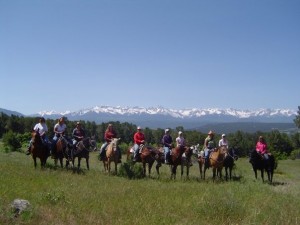 Cold Porridge!
I make this for visitors with a blender muffin and fresh fruit! You make this recipe the night before guests or for a camping trip. It is welcomed all through the day!
1 C oatmeal- ( can sub 7 grain flakes)
3/4 C milk
1/4 C nuts of choice (almonds, pecans, hazelnuts, seeds: pumpkin!)
1/4 C sugar
1 large GREEN apple (unpeeled coarsely grated)
1/3 C raisins or currants (optional)
2 T lemon juice
1/2 C plain yogurt or vanilla
Mix into a pretty batter bowl , cover and refrigerate over night. Garnishes: fresh whipped cream, honey, nuts, muesli, and fruits. This makes 4 large helpings. I double this for when guests are present.
May you enjoy-    Kathy