I am fast entering into my 5th year of homeschooling 3 incredible kids! Our journey with their triplet pregnancy, birth and life has taken us on a God given Vision of teachin' them! I love it! I think I learn more the second time around. I jokingly refer to this year as my second term in 4th grade.
What do you all want to study this coming year?
That is a question I pose every year.  The answer was BEES! This year it is the whole family who is into finding out more about bee keeping and understanding of what takes place in one of those "boxes," in a nameless field, that we drive 60 mph past most days!
Carol J. Alexander, who I know through her blogging on http://EverythingHomeWithCarol.com, wrote a book and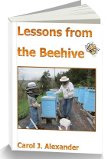 coincidentally asked if I could review. What perfect timing as I have no materials to shape this learning venture, other than Mr B. out on the highway who has been a bee keeper for his whole life. We have a field trip planned, but for me- "Cape Wearing, Busy Supermom"- I need a bit of an outline and Lessons from the Beehive is just that.
What Lessons from the Beehive IS:
50 lessons bee related in math, language, science and more
A spring board or starting point to mesh bee learning with school
information that turns on the brain in a research kinda way
Listed resources found on the web
a framework to lapbook using science, geography, math, home ec, art, etc.
encouragement to delve into bees!
Supplier listing for beehive management
Interest sparker!
What Lessons from the Beehive is NOT:
It is not a manual on beekeeping
Not  a manual for diagrams- but sources for that are listed
So as we start this year, bees are a hot topic and on the agenda. I can see using Lessons for the Beehive to help navigate my way through an area of study that we've never been in before. It is a good and right place to start. The review of the little book has made going to the library very purposeful! I can see speaking "bee" for the next 4 mo. and making a super (aka: the little white boxes on a nameless field, along the highway, we all drive 60 mph by) to complement our endeavors to be beekeepers and be knowledgable well before we get to the actual hive! May it be so!!!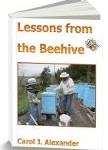 You can get Lessons from the Beehive from Carol, www.LessonsFromTheHomestead.com.
Buzz you later, Kathy