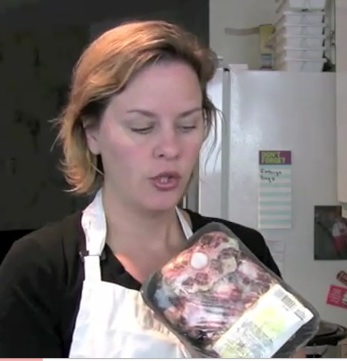 Today I'm going to talk about the time-tested process of making bone broths in your  kitchen to restore your health.
Today's busy lifestyles, wide use of antibiotics and nutrient deficient foods have pre-disposed many children and young adults to unhealthy gut health resulting in sinus problems, gluten intolerance, chronic fatigue, arthritis,  allergies, and other degenerative conditions.  Having said that, I remind you I'm not a doctor but I speak based on my own experience and that of others.
You can easily master the art of making your own bone broths or stocks from leftover chicken, beef, or fish bones.  Add chopped carrot, celery, and onion.  Simmer for 24–72 hours.
Bone broths are very nourishing to the intestines because they are full of natural gelatin that coats and soothes the gut and contain high amounts of calcium, magnesium, and other  trace minerals.  View the video for details.  The broths can be made into gravy, soups and stews, or even used as a tonic – type drink.  They are delicious, and thick when properly made.
For free information, including an emailed list of things you can do to get started with better health, as well as tips, recipes and resources,  click on the
Reversing Food Allergies On -Line Cooking Class Link .
The 12 week class includes over 50 video demonstrations, and over 200 recipes.  Class registration goes through April 4 at the discounted price, classes start April 6.  Save $20 with coupon Code HEAL which is good through April 1.  Remember, registration is for life-time access to the materials.  Class schedule is as follows:
Lesson 1: Overview & Basics
Lesson 2: Detoxifying
Lesson 3: Making Stock
Lesson 4: Fermented Foods
Lesson 5: Soups & Stews
Lesson 6: Breakfasts
Lesson 7: Lunches
Lesson 8: Dinners – Poultry & Pork
Lesson 9: Dinners – Beef & Lamb
Lesson 10: Dinners – Seafood
Lesson 11: Appetizers, Snacks & Side Dishes
Lesson 12: Desserts
Bonus Video:  How to Make Ghee – Free of allergens such as milk solids and lactose and safe for dairy intolerant individuals.
Register for the 12 Week Reversing Food Allergies Class Here.
Disclaimer: While I can't guarantee your food allergies will be reversed by mastering the art of traditional cooking methods, I do believe your health will be improved.
Disclosure: http://cmp.ly/5